PRUMy Child Plus
This is What Love Looks Like.
Protects mummy and baby​ from 13 weeks of pregnancy.​
Protection begins even before birth

PRUMy Child Plus is an insurance solution that uses PRUWithYou as the base plan to provide comprehensive protection for mother and baby from 13 weeks of pregnancy and continues to cover the child until the age of 100.​
Solution
benefits
Ensuring your child is covered from the womb to adulthood.

Pregnancy coverage and more
We provide mother and child care benefits (up to attained age of 7) such as 27 congenital conditions, ALL structural congenital conditions, emergency c-sec delivery before 36 gestational week, yearly support for Autism, Attention Deficit Hyperactivity Disorder (ADHD) and more.

Medical coverage that grows with your child
High medical coverage that is guaranteed to auto-increase every year while providing coverage such as pandemic protection, unlimited Room & Board/ ICU stays and rewards for staying healthy.​

Secure your child for a rainy day
Ensure that your child is safe even if you or your spouse are no longer present.

Education fund for your child
Savings are set aside to grow their education fund, and a rider like PRUSaver Kid can assist you in starting to save for their education as early as infancy.​
Now protecting mummy and baby from 13 weeks of pregnancy.
​The love from every parent for their child starts even before they have first laid eyes on them. Get protected as early as 13 weeks of gestation and enjoy extensive coverage for your pregnancy and your child with Mom and Baby Care.​​
Our Mom and Baby Care plan
covers​
Sign Up Today
Earn Grab vouchers up to RM238*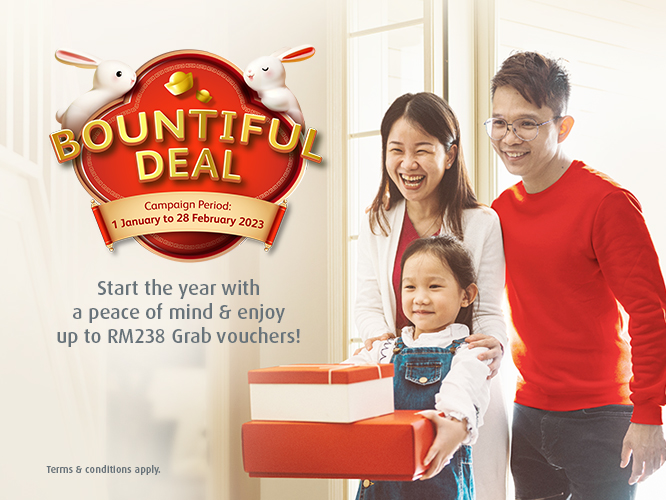 Setting your priorities right in the new year will help you steer forward with confidence.
Get your family protected with PRUMy Child Plus and earn up to RM238 Grab vouchers from 14th January 2023 to 28th February 2023.
Download the flyer for more details on the campaign. T&C apply.
Extra riders that can be attached to

PRUMy Child Plus

You can also add extra plans to strengthen your coverage. Choose from plans that provide:
| | |
| --- | --- |
| Child and Mother Protection | |
| Medical Protection | |
| Critical Illness Protection | |
| Accidental Protection | |
| Payor Benefit Protection | |
| Savings For Education Fund | |
*The rider can only be attached when PRUSaver or PRUSaver Kid and the respective payor basic is attached.
Learn

more
More about PRUMy Child Plus and pregnancy insurance in Malaysia
The plan that provides earlier protection for your unborn baby.
PRUMy Child Plus is a solution offered by our flagship product, PRUWith You as its basic plan. Attached with prenatal, critical illness, medical, accidental, and payor riders, it is a comprehensive insurance solution to meet your child's protection needs. With PRUSaver Kid, this plan could also function as a savings plan for your child's education.
About your plan
How much does it cost (your premium)?

Minimum insurance premium for:

Children (before birth to 18 years old) is RM50 per month

Adults (19 to 70 years old) is RM100 per month

Insurance premium will vary according to the amount of coverage, age, gender and smoking status.

How long will I need to pay premiums?

You pay premiums for as long as you have your plan in force.

How long does the coverage last?

Choose to stop your plan at 60, 70, 80, 90 or 100 years old.

How old must the life assured (the person covered by the plan) be when the plan starts?

Before birth: After 13 weeks into pregnancy.

After birth: Age 1 – 70 years old.

What's the minimum amount of coverage?

RM10,000

What's the maximum life coverage?

Our underwriters decide this, depending on your circumstances.
All ages in this table are age next birthday (ANB)
Important notes
Key information and disclaimers.
PRUMy Child Plus is a solution offered using our product, PRUWith You as its basic plan, which is an investment-linked plan attached with prenatal, critical illness, medical, accidental, and payor riders.​

Please note that the package here consists of benefits that can be bought separately and you are not obligated to select all benefits of this package.​

This content contains only a brief description of the product and is not exhaustive. You are advised to refer to  Prudential Assurance Malaysia Berhad (PAMB)'s Brochure, Product Disclosure Sheet, Product / Sales Illustration, Fund Fact Sheet (if any), and the consumer education booklet on Life Insurance, Investment-Linked Insurance, Personal Accident Insurance, and Medical and Health Insurance before purchasing the plan, and to refer to the terms and conditions in the policy document for details of the features and benefits, exclusions and waiting periods under the policy.​

This product comes with an option to extend the term of basic plan up to the Policy Anniversary of Life Assured's age 100. For rider(s), if applicable, the rider's term will be extended up to the Policy Anniversary of Life Assured's age 100 or the rider's maximum coverage term, whichever is earlier. Unless you request to disable the Extension of Coverage Term, your policy will be auto extended as long as it has sufficient value of units to be deducted to pay for the relevant charges, fees and taxes during the extended term. To ensure sufficient value of units, additional premium is likely required during the extended term. During the extended coverage term, the coverage provided by the basic plan and rider(s) (if applicable) will remain the same.​
PLEASE NOTE THAT THIS IS AN INSURANCE PRODUCT THAT IS TIED TO THE PERFORMANCE OF THE UNDERLYING ASSETS, AND IS NOT A PURE INVESTMENT PRODUCT SUCH AS UNIT TRUSTS.​
FAQ
What are Structural Congenital Conditions?​
*Structural Congenital Conditions are birth defects that affect the normal physical development of body parts or organs. ​
Examples include but not limited to:​
Cleft Lip​

Abnormal limbs (e.g. Clubfoot);​

Heart defects (e.g. Atrial/Ventricular Septal Defects, Patent Ductus Arteriosus);​

Gastrointestinal defect (e.g. Esophageal Atresia, Diaphragmatic Hernia, Pyloric Stenosis).​
We do not cover functional birth defects (other than listed Congenital Conditions) which are related to a problem with how body system works. ​
Examples include but not limited to: ​
Nervous system and brain problems (e.g. learning disabilities, intellectual impairment, behavioral disorders);​

Immune system disorders in which the child's immune system does not function adequately (e.g. autoimmune diseases);​

Neurodevelopmental disorders where the child seems to be developing normally but suddenly starts to lose function and previously acquired skills (e.g. Rett Syndrome, Muscular Dystrophy);​

Metabolic disorders (e.g. Phenylketonuria, Type 1 Diabetes).​