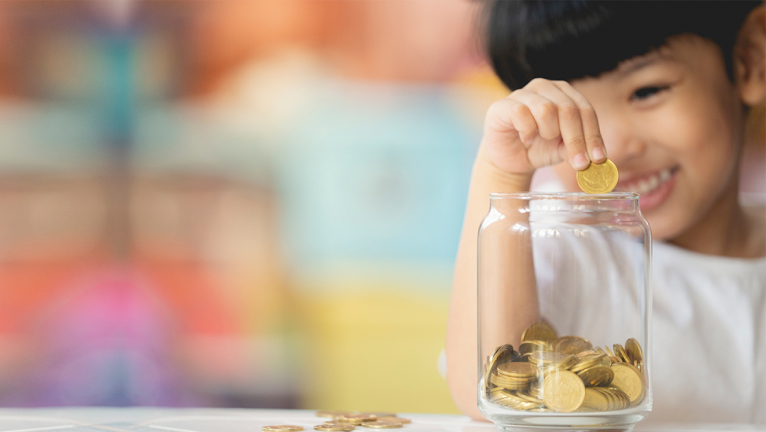 PRUSaver Kid
An investment rider to grow your child's education fund. Save and invest for your child's education today.
Product
benefits
Designed to help you accumulate your child's education fund with potential returns.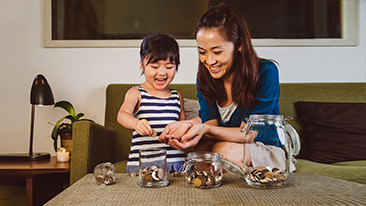 We help your child to grow his/her savings
We pay you a potential lump sum of savings that you accumulated throughout the policy period.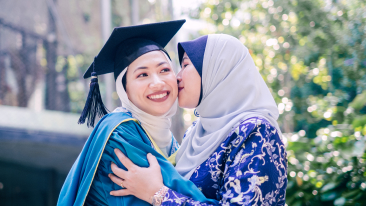 Peace of mind when your child enters tertiary education
You can choose to receive the payout anytime your child is between 18 - 25 years old.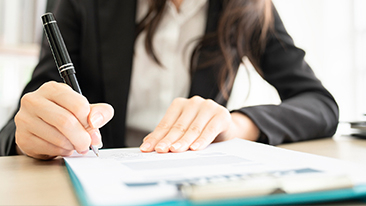 Flexibility to choose the funds you wish to invest in
Change the funds you invested in from time to time as you and your child's aspirations change.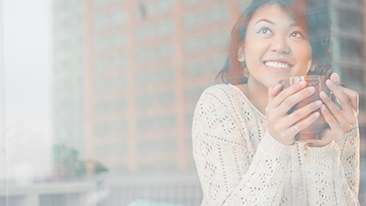 Attachable to multiple basic plans based on your needs
PRUSaver Kids is attachable to PRUWith You, PRUWealth Plus and PRUWealth Max.
It's never too early to save for your child's education
A child's education is an important factor of their future success. Start saving as early as infancy so you can ensure they receive the very best education possible. Upon expiry of PRUSaver Kid, it will continue and be treated as premiums for PRUSaver.
Attachable to other plans, this child education savings investment rider allocates portions of your premium into investment fund(s) that will offer a payout for your child's studies.
Learn

more
More about PRUSaver Kid
Extra plan that provides a secure education fund for your child.
About your plan
How much does it cost (your premium)?

Minimum = RM 10 per month
Maximum = 5 times the total premium (excluding PRUSaver/ PRUSaver Kid)

How long will I need to pay premiums?

You pay premiums for as long as you have your plan is in force.

How old must the life assured (the person covered by the plan) be when the plan starts?

Before birth: After 14 weeks into pregnancy.
After birth: Age 1 – 18 years old.
All ages in this table are age next birthday (ANB)
Important notes
Key information and disclaimers.
This content contains only a brief description of the product and is not exhaustive. You are advised to refer to Prudential Assurance Malaysia Berhad (PAMB)'s Brochure, Product Disclosure Sheet, Sales/Product Illustration, and Fund Fact Sheet (if any), and the consumer education booklet on Life Insurance and Investment-Linked Insurance before purchasing the plan, and to refer to the terms and conditions in the policy document for details of the features and benefits, exclusions and waiting periods under the policy.
Child Education Insurance Plan FAQ
How to plan for your child's education?
Education can be costly, but it's necessary for a bright future. Here are some effective steps you can take to plan for your children's future:
Define your time frame by counting the years graduation.

Estimate tuition fees. This will vary depending on a number of factors, including the courses your child wants to pursue and whether they are going to study abroad.

Once you've estimated tuition fees, estimate the amount you need to save.

Break down the amount into smaller achievable numbers. I.e. how much will you need to save or invest a month to achieve this goal?
Start saving or investing in an education plan immediately. The sooner you start, the longer you have.
How to estimate future education fees?
To estimate your child's tertiary tuition fees, list the present fees and factor in future value. Remember also to add in living expenses. For example, if a degree in business management costs RM30,000 currently and education inflation rate is 6%, the degree will cost about RM45,000 in five years.
How can I invest in my child's education?
There are many ways to save up for your child's education. The simplest way is to start a savings account. However, savings accounts offer barely any interest and thus, whatever you put in, is the amount you'll have for your child's education.
You can also invest your funds for it to grow. However, investing always comes with a risk and thus, it's wise to diversify your investments and do your research before investing.
Education insurance is another way to ensure that your child has the funds for tertiary education. Although the investment period may be long, it offers relatively stable returns in addition to coverage protection.
What are the benefits of buying an education insurance policy?
An education insurance policy for your child offers the following benefits:
As you pay the premium, potential bonus payments will be added to the education fund. However, bonus payments vary from plan to plan so do your research.

Most education insurance policies allow you start saving early on. Thus, you may have over 20 years to save for your child's education, giving you a significant head start.

You can enjoy up to RM3,000 tax relief with education insurance purchased for your children.

Some education insurance policies allow small withdraws, which is excellent if you're having financial difficulties.