Newsroom - Press Release
Broadening Access To Genomic Testing For Cancer Patients

New collaboration formed to provide better access to genomic testing, an innovative approach to cancer diagnosis for the targeted treatment of specific cancers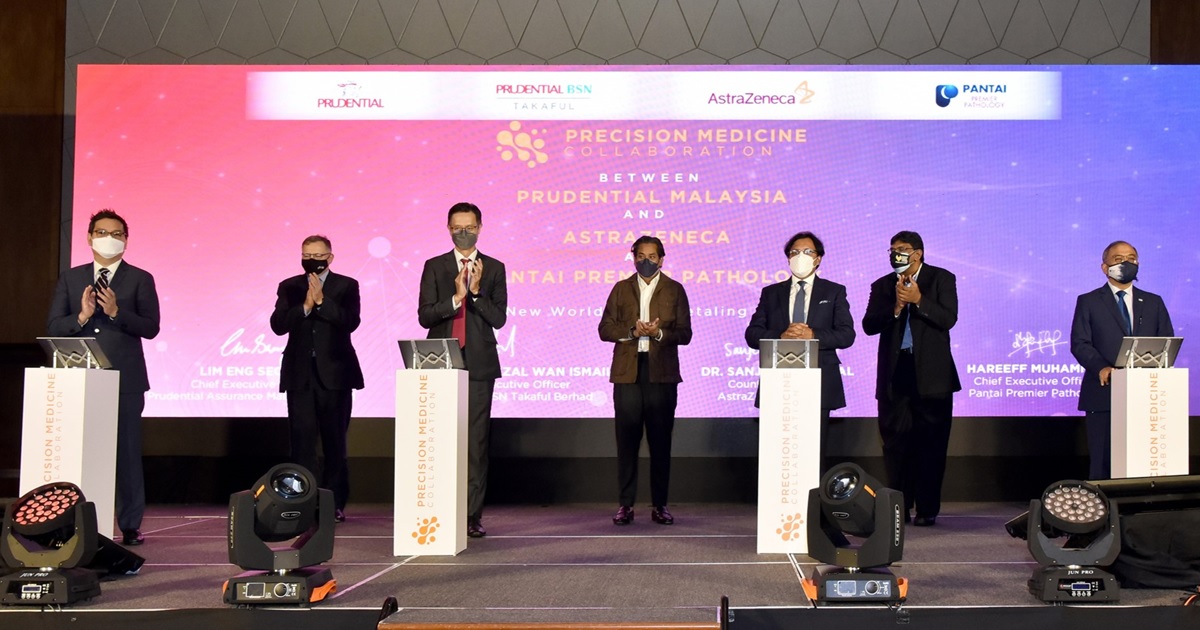 KUALA LUMPUR, 4 April 2022 – Battling cancer is extremely challenging because of its impact on the patient's physical, financial, and mental well-being.
A tripartite collaboration between Prudential Malaysia, AstraZeneca and Pantai Premier Pathology was launched today to pave the way for cancer patients to access genomic testing for a more accurate diagnosis of their cancer based on its genetic profile. Through this collaboration, cancer patients will financially have peace of mind and can look forward to improved treatment outcomes.
This first industry collaboration of this sort was formalised through a signing ceremony between all three parties, witnessed by Yang Berhormat Khairy Jamaluddin, Minister of Health, who also delivered the keynote address.
Representing their organisations at the signing ceremony were Mr. Lim Eng Seong, Chief Executive Officer of Prudential Assurance Malaysia Berhad; Mr. Wan Saifulrizal Wan Ismail, Chief Executive Officer of Prudential BSN Takaful Berhad; Dr. Sanjeev Panchal, Country President of AstraZeneca Malaysia and Mr. Hareeff Muhammed, Chief Executive Officer of Pantai Premier Pathology.
Healthcare professionals have long recognised that cancer behaves differently from one patient to another and therefore there is no one-size-fits-all treatment[1]. Precision medicine is an emerging treatment approach that tailors medical care to individuals based on information acquired from genomic testing which reveals the genetic make-up of the disease. An in-depth understanding of how cancer behaves helps doctors plan specific treatments that may improve survival outcomes and quality of life[2].
Challenges in cancer care are multifaceted, demanding continuous action on a national scale. Many obstacles stand in the way of successful cancer care and this includes access to quality affordable treatment. With the aim to bridge the gap on access and affordability, this tripartite partnership will entail Pantai Premier Pathology providing precision medicine diagnosis through their laboratory, Prudential Malaysia improving affordability to the diagnosis through medical insurance / takaful plans and AstraZeneca supporting by way of education on early diagnosis.
Being the first collaboration of its kind, the partners hope that this initiative will pave the way for other like-minded industry partners such as hospitals and insurance / takaful players to join the coalition to help broaden patients access to quality, affordable cancer care in the country.
Mr. Lim Eng Seong of Prudential Assurance Malaysia Berhad said, "We are delighted to partner with AstraZeneca and Pantai Premier Pathology in this collaboration which synergises our efforts in educating and supporting cancer patients. Prudential Malaysia now extends our coverage to include genomic testing and precision medicine, giving our customers peace of mind that they can be in the best position to focus on their treatment and recovery. This coverage also allows physicians to prescribe clinically suitable treatments and tests from other pharmaceutical companies and laboratories. As their trusted partner in health and protection, we want our customers to face this battle with confidence."
Mr. Wan Saifulrizal Wan Ismail of Prudential BSN Takaful Berhad said, "We want to do our part in helping the Government with cancer care by making precision medicine accessible and affordable for our customers within all our medical plans. There is a worrying increase in Malaysia's cancer cases and as the leader in the insurance and takaful industry, we want to do what we can to ensure Malaysians get the best care for a better health outcome. We are proud to collaborate with esteemed partners in this endeavour and optimise health solutions for a healthier nation."
Dr. Sanjeev Panchal of AstraZeneca said, "We are committed towards playing a vital role in reducing the disease burden in the country by broadening access to healthcare and raising awareness on early screening. Through this partnership with key industry players, we aim to bridge the gaps in cancer care, particularly in the areas of affordability and access to cancer treatment. This industry-first collaboration will enable us to take a step further by making innovative treatments such as precision medicine more affordable and attainable to cancer patients, as well as improve awareness on the importance of early diagnosis."
Mr. Hareeff Muhammed, Chief Executive Officer of Pantai Premier Pathology said, "Pantai Premier Pathology is constantly keeping up with the demands of modern healthcare, and we are pleased to be one of the pioneers to have a breakthrough service such as genomic testing as part of our cancer care solutions. By being a part of this collaboration, we can continue our mission to make genomic testing for precision medicine more accessible to cancer patients, thereby providing patients with a more comprehensive and affordable suite of healthcare solutions to improve the quality of their health."
-END-
[1] LaFee, S. (2021, October 13). At Initial Cancer Diagnosis, a Deeply Personalized Assessment. Retrieved from Regents of the University of California: https://health.ucsd.edu/news/releases/Pages/2021-10-13-at-initial-cancer-diagnosis-a-deeply-personalized-assessment.aspx
[2] American Cancer Society. (2020, April 24). Precision or Personalized Medicine. Retrieved from American Cancer Society: https://www.cancer.org/treatment/treatments-and-side-effects/treatment-types/precision-medicine.html