Newsroom - Press Release
Prudential Introduces PRUAll Care to Provide Comprehensive Coverage Beyond Critical Illnesses
PRUAll Care, a revolutionary plan covers 190 conditions and provides a lump sum payout for post-surgery recovery, intensive care support and mental health coverage.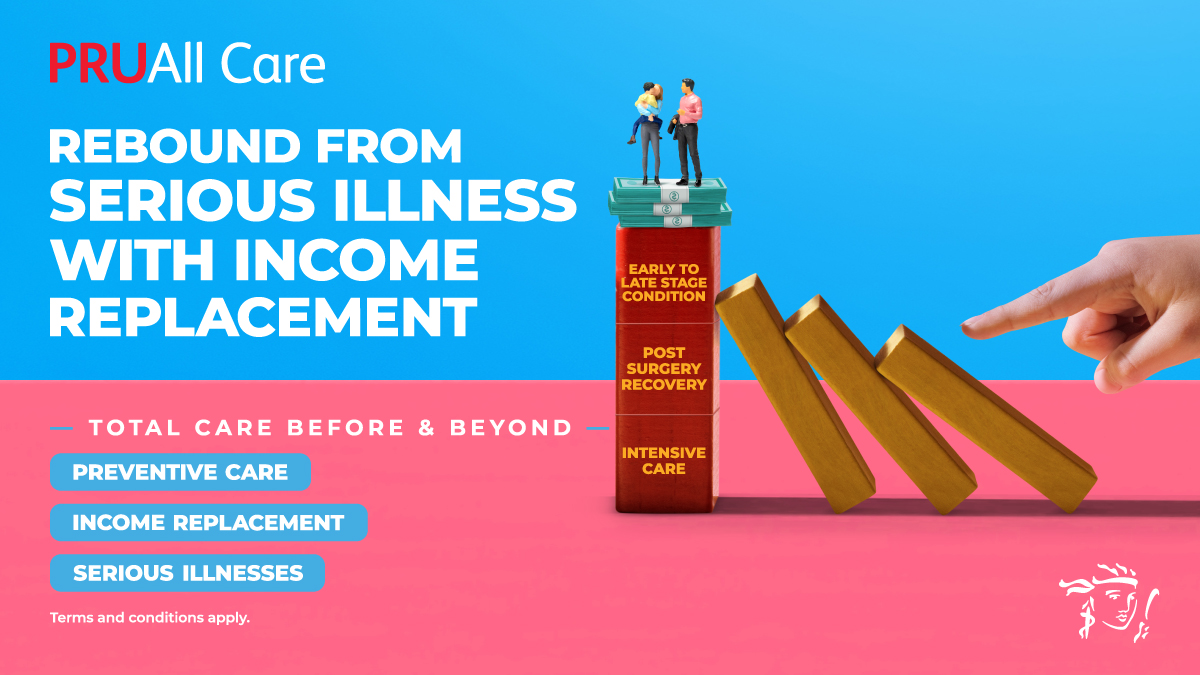 KUALA LUMPUR, 25 November 2021 - Prudential Malaysia Assurance Berhad (PAMB) has introduced the first of its kind comprehensive coverage plan, PRUAll Care, that extends coverage beyond Critical Illness to include coverage for post-surgery recovery, mental health diagnosis, and intensive care support.
Eric Wong, Chief Customer and Marketing Officer of PAMB said, "At Prudential, we want to provide peace of mind to our customers when faced with a Serious Illness. Supplementing a medical insurance plan which covers hospitalisation and medical treatment costs, PRUAll Care provides a lump sum amount to help alleviate financial stress so that customers can focus on recovery. With PRUAll Care, customers can use the lump sum payout as income replacement to cover basic living expenses, and recuperation costs such as additional medical equipment, nursing care, travelling expenses, medicinal supplements and so on."
What makes PRUAll Care unique is their innovative approach to extending coverage beyond the traditional list of Critical Illness to also cover conditions which require major surgery with hospitalisation and the need for intensive care with essential life support. Prudential recognises that these conditions, known as "Serious Illness", could cause major financial disruptions and would require extensive recovery periods.
Eric added, "Serious illness does not only affect physical health. We also understand the importance of mental wellness and its effect on one's overall well-being. PRUAll Care provides mental health coverage to support conditions such as Severe Major Depressive Disorder, Schizophrenia, Bipolar Disorder, Severe Obsessive-Compulsive Disorder, Severe Autism Spectrum Disorder (Severe ASD), Tourette Syndrome (TS) and Attention-Deficit Hyperactivity Disorder (ADHD). Customers who are diagnosed with any of these mental health conditions will receive up to 20% of the total coverage in a lump sum payout*.
Prudential Malaysia recently interviewed Malaysians between the ages of 20 - 40 years and found that the interviewees were fully aware of the importance of recovery care following the diagnosis of serious illnesses. The consensus is that serious illnesses such as mental health conditions may strike beyond critical illnesses, therefore support throughout recovery is very much needed. Click here to watch the video.
In conjunction with the launch of PRUAll Care, Prudential is giving out a specially curated Watsons Health Care Box worth more than RM100 to customers who sign up today. In addition, customers can also enjoy a one-month premium cashback on PRUAll Care when purchased together with PRUWith You or PRUWealth Plus*. For more information, please visit PAMB's website.
-END-