Newsroom - Press Release
Prudential Malaysia Launches Insurance & Takaful Plans for EPF Members
Protection plans offered in collaboration with EPF and available under i-Lindung initiative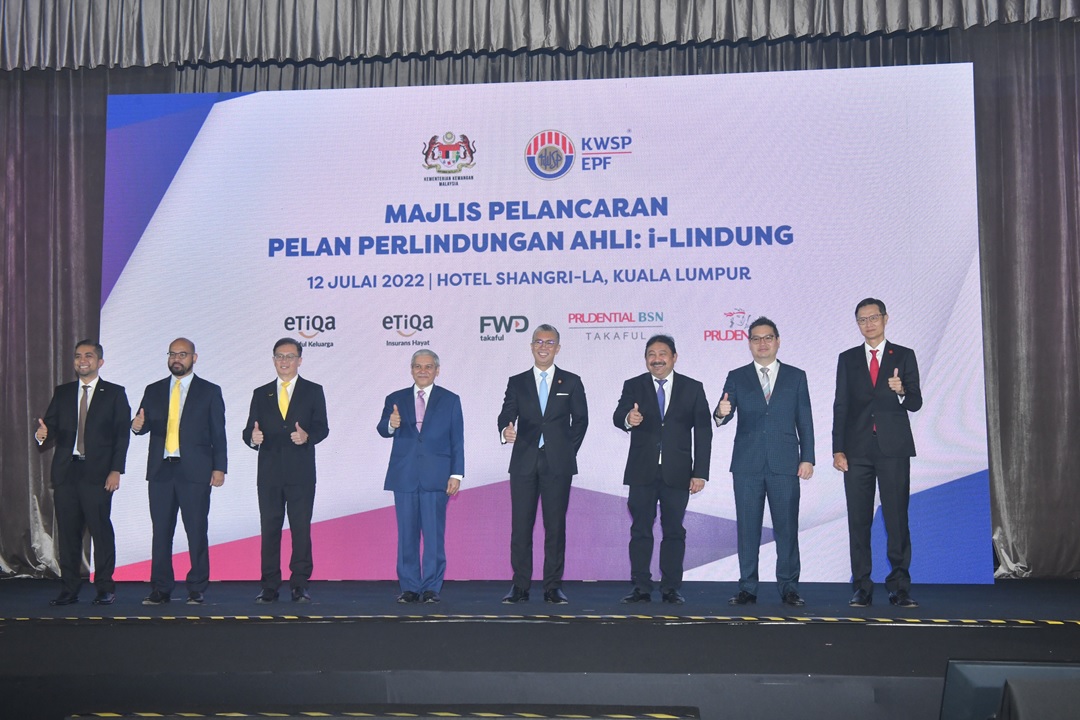 Kuala Lumpur, 12 July 2022 – Prudential Malaysia[1] has been appointed by the Employees Provident Fund (EPF) as one of the insurance and takaful operators to provide affordable and simple to understand protection plans to all EPF members under the i-Lindung initiative. The initiative, launched by Finance Minister Datuk Seri Tengku Zafrul Abdul Aziz, is intended to provide affordable and accessible protection coverage to Malaysians.
According to Bank Negara Malaysia statistics, only 41 per cent of Malaysians currently have at least one individual or group life insurance policy or family takaful certificate. In addition, the Life Insurance Association of Malaysia (LIAM) further revealed that of those protected, over 90 per cent do not have sufficient coverage to protect themselves and their families. Furthermore, only four per cent of households from the B40 income group had any form of life insurance or takaful coverage.
Mr. Lim Eng Seong, Chief Executive Officer of Prudential Assurance Malaysia Berhad, said "We are highly supportive of the EPF i-Lindung programme as we share a common purpose of helping Malaysians to achieve a better financial future. With the presence of protection plans, EPF members can safeguard their savings and retirement funds should the unfortunate happens.
Mr. Wan Saifulrizal Wan Ismail, Chief Executive Officer of Prudential BSN Takaful Berhad commented, "As an organisation that promotes 'Takaful For All, For Life' we have made it our mission to help Malaysian families secure their futures through innovative solutions built on Islamic values. By introducing these inclusive and budget-friendly plans under i-Lindung, we want to encourage more Malaysians to be financially protected, to ensure that they and their families live with peace of mind."
The four plans introduced by Prudential Malaysia are PRUGuard Life and PruBSN Lindung (Term Protection) and PRUCare Life and PruBSN Cegah (Critical Illness Protection). EPF members can sign up for the protection plan(s) instantly by completing a few simple health-related questions and make premium/contribution payments directly from their EPF online portal - i-Akaun, with just a one-time payment for an entire year coverage up to RM100,000.
PRUCare Life and PruBSN Cegah are critical illness plans that provide EPF members with financial assistance upon diagnosis of 43 types of critical illnesses, as well as dengue fever. Members can use the lump-sum payout to fund medical treatments or mitigate the loss of income caused by the illness, with a premium/contribution from as low as RM8.40 for one-year coverage.
PRUGuard Life and PruBSN Lindung, on the other hand, are term insurance/takaful plans that offer lump-sum death and total and permanent disability benefits to ensure families are taken care of in the event of loss of life or loss of income caused by disability. Customers can choose coverage amount that best suits their needs and budgets, from as low as RM10.40 for one year of coverage.
Upon signing up for their plan of choice, customers can easily view their certificate in just a few clicks via the PRUServices feature on the Pulse by Prudential app, which is available to all Prudential Malaysia customers. Powered by AI technology, the app provides a wide variety of health and wealth management features and is available for free download on the App Store and Google Play Store. In addition, Prudential Malaysia customers can also submit their claim via PRUServices and keep track with the up-to-date claim status.
In conjunction with the launch of i-Lindung, Prudential Malaysia has launched the MyRezeki campaign, whereby EPF members who have purchased/subscribed to Prudential Malaysia's insurance or takaful plans by 30 September 2022 will stand a chance to win prizes worth over RM100,000.
-END-

[1] Prudential Assurance Malaysia Berhad (PAMB) and Prudential BSN Takaful Berhad (PruBSN), collectively referred to as Prudential Malaysia.