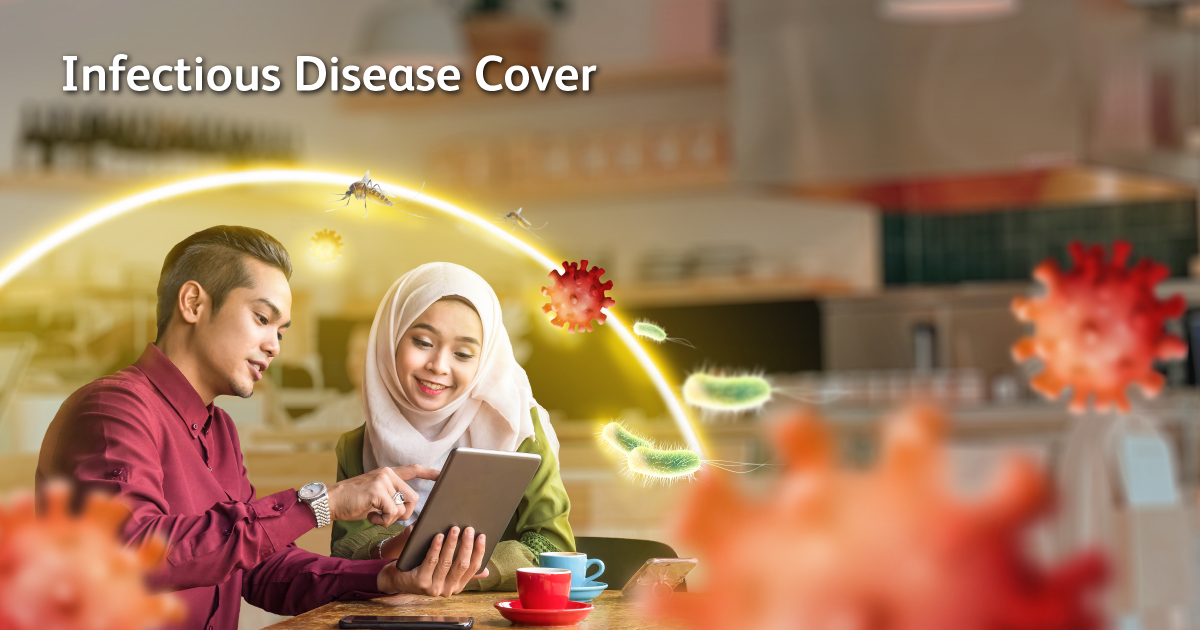 KUALA LUMPUR, 22 January 2021 - Prudential Assurance Malaysia Berhad (PAMB) and Shopee have partnered to launch a protection plan that provides coverage against infectious diseases, namely dengue fever, malaria, measles, and typhoid. This protection plan will only be available until 18 February 2021 on Shopee in conjunction with their Shopee 2.2 CNY Sale.
Users of Shopee can search for 'Prudential Infectious Disease Cover Plan' on the Shopee app and follow the steps to purchase the plan. If the policyholder is diagnosed with any of the four diseases, he or she will receive a lump sum of RM1,000 in cash relief. A further RM10,000 cash relief will be paid out if the policyholder unfortunately passes away from the same diagnosed disease[1]. At a premium of RM12.50, the protection coverage is valid for one year from the time of application.
Infectious diseases are easily spread from person to person through direct contact, with water, food or airborne particles, and through bites from insects such as mosquitoes[2]. The Ministry of Health continues to rank dengue as the number one infectious disease in Malaysia. As of November last year, Malaysia reported 86,406 dengue cases and 140 deaths from the disease[3].
Eric Wong, Chief Customer and Marketing Officer of PAMB commented, "As we begin a new year, many Malaysians are re-visiting their physical health and well-being and re-aligning their priorities to take into account the possibility of health emergencies. While Covid-19 is still top of mind, it does not undermine the prevalence of other infectious diseases. If one gets sick, he or she will not only face high treatment costs but are also likely to need to take time off from work to get treated and recover. We are delighted to be able to collaborate with Shopee to launch this product for their users. With their reach, we are able to deliver upon our commitment of providing affordable and accessible healthcare to all Malaysians."
"Shopee shares the same values and beliefs as Prudential. As an e-commerce platform, we strongly believe in the power of technology to reach people all over the country. We are proud of this partnership with Prudential as the opportunity has enabled both sides to innovate and expand our offerings to consumers, ensuring value is added to meet the changing lifestyle needs of consumers," said Ian Ho, Regional Managing Director of Shopee.
PAMB and Shopee are currently running a campaign where the first 2,800 users who successfully sign up for the Infectious Disease Cover Plan will be entitled to a RM10 Shopee voucher.
Eric added, "we know how important it is to get timely financial assistance during a medical emergency. More so in cases of infectious diseases where immediate medical attention is often required. We have made it very easy for customers to claim via our health app Pulse by Prudential where all they need to do is input their details and upload the required documents."
For more information on the Infectious Disease Cover Plan, visit www.prudential.com.my or contact Prudential's customer care representatives at: 03-27710228 or customer.mys@prudential.com.my
-END-
[1] Terms apply
[2] One vaccine for six diseases introduced for Malaysian children – The Star, 20 Dec 2020
https://www.thestar.com.my/lifestyle/health/2020/12/20/one-vaccine-for-six-diseases-introduced-for-malaysian-children
[3] Dengue Situation Update Number 609 - World Health Organisation
https://www.who.int/docs/default-source/wpro---documents/emergency/surveillance/dengue/dengue-20201203.pdf?sfvrsn=b42cfbd0_43#:~:text=From%201%20January%20to%2014,the%20same%20period%20in%202019.