Newsroom - Press Release
COVID-19 Hospitalisation Assistance & Post Vaccination Coverage
for Prudential Malaysia Customers
KUALA LUMPUR, 11 March 2021 – Prudential Assurance Malaysia Berhad (PAMB) and Prudential BSN Takaful Berhad (PruBSN) (collectively referred to as Prudential Malaysia) are providing further COVID-19 assistance to their customers by offering hospitalisation reimbursement as well as coverage for any adverse effects from the COVID-19 vaccination. This support is in addition to its Special COVID-19 Coverage 2021 which provides RM1,000 cash relief upon hospitalisation and a RM10,000 death benefit for Prudential Malaysia customers.
"As the country continues to face a high number of COVID-19 cases and to ease the burden on public healthcare, the government may refer COVID-19 treatments to private hospitals. In line with this recent development and our commitment to provide financial peace of mind, we have introduced the COVID-19 Hospitalisation & Post Vaccination Campaign to support our customers during this difficult time. The Campaign is designed to provide assistance to our customers who have medical plans with a general exclusion on communicable diseases that require quarantine by law, and offers complimentary coverage for eligible customers who sign up through our Pulse by Prudential app," said Gan Leong Hin, Chief Executive Officer of PAMB.
For customers who require hospitalisation at any Ministry of Health Malaysia (MOH) designated private hospital due to COVID-19, Prudential will offer up to a RM20,0001 reimbursement for hospitalisation claims. Furthermore, all customers are entitled to a RM500 cash relief for hospitalisation in Malaysia due to serious adverse effect(s) from immunisation after receiving the COVID-19 vaccination2.
"As a company operating in these unprecedented times, we recognise the importance of remaining agile in responding to the needs of our customers. As the government rolls out its vaccination programme to protect its citizens and residents, we also want to provide financial peace of mind by offering an allowance to those who require hospitalisation due to the side effects of the COVID-19 vaccination. We highly encourage our customers to speak with their Prudential Wealth Planner or Takaful Agent to understand their COVID-19 coverage better and what they can claim for," commented Wan Saifulrizal Wan Ismail, Chief Executive Officer of PruBSN.
Registration for the COVID-19 vaccination has already begun with the MOH reporting almost 3 million individuals registering for it through MySejahtera. The COVID-19 vaccination is free for all Malaysians and foreign nationals residing in the country.
How to sign-up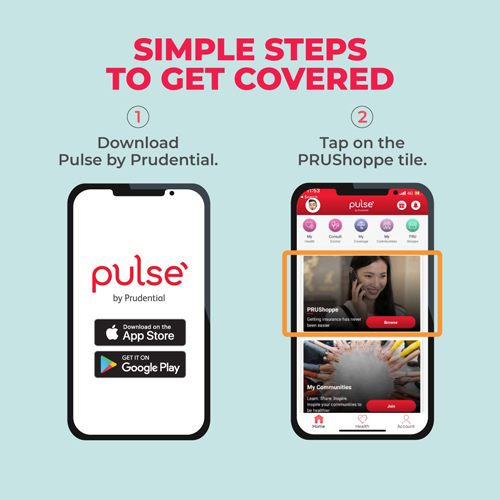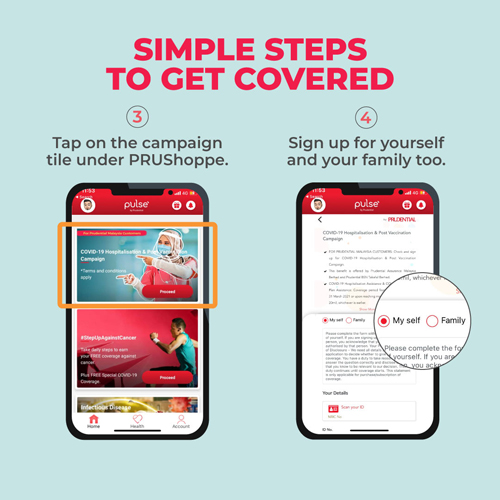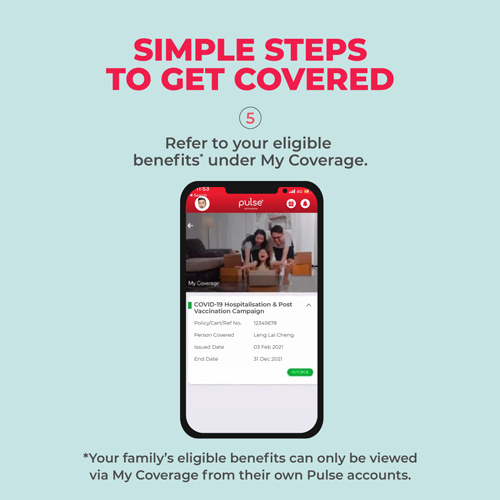 For further information, customers can refer to: PAMB's website and/or PruBSN's website, or contact their Prudential Wealth Planner/Takaful Consultant or representative, or Prudential's customer care representatives at:
Prudential Assurance Malaysia Berhad
03-2771 0228 | customer.mys@prudential.com.my
Prudential BSN Takaful Berhad
03-2775 7188 | customer@prubsn.com.my
-END-
[1] 8 February 2021 to 30 September 2021 or until the fund reaches the claims limit of RM 20mil, whichever is earlier.
[2] 8 February 2021 to 31 December 2021 or until the fund reaches the claims limit of RM 1mil, whichever is earlier