PRUKasih
Financial Relief
Our legacy initiative that provided temporary financial relief to urban low-income families coping with sudden loss of income due to illness, accident and death.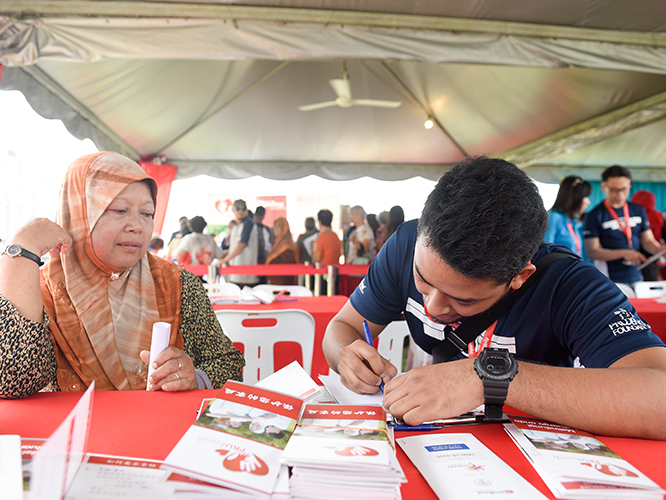 About

PRUKasih

PRUKasih was a sponsored financial protection plan to support the Government's initiative in improving the lives of the urban low-income households (LIHs) in Malaysia. It was born in 2011 as a result of a partnership between PAMB and Yayasan Generasi Gemilang ("GG").

Through PRUKasih, eligible urban low-income households from participating communities were able to receive temporary financial relief when breadwinners of their families are unable to generate income due to an accident, illness or death. Affected beneficiaries were eligible for food vouchers and housing allowances, while affected families of deceased beneficiaries were provided with funeral expenses for a maximum duration of one year. This initiative ended in November 2022 with the launch of PRUKasih Aman, a new protection plan with better benefits.
PRUKasih

communities
Our distributors
Distributor

Community

Beautiful Gate Foundation

Beautiful Gate Members

Community Transformation Initiative

PPR Kota Damansara

Great Vision

PPR Pantai Ria

HOPE Worldwide

PA Seri Perak

House of Hope

Flat Padang Tembak

Love Cheras

Cheras Kobena Apartments
Low-Cost Flats Ampang Mewah
Low-Cost Flats Pandan Jaya
Low-Cost Flats Taman Dagang
Low-Cost Flats Taman Maluri
Low-Cost Flats Taman Miharja
Pangsapuri Segar Ria
Permai Apartments
PPR Bukit Cheras
PPR Jalan Cochrane
PPR Jalan Peel
PPR Pudu Ulu
PPR Raya Permai
PPR Seri Alam
PPR Sri Johor
PPR Sri Labuan
PPR Sri Melaka
PPR Sri Pulau Pinang
PPR Sri Sabah
Rumah Panjang Ikan Emas
Segar Apartments
Taman Miharja Apartments

Malaysian Care

Flat Danau Kota

The Light Community Centre

PPR Kg Muhibbah

Pusat Bantuan Sentul

PPR Batu Muda

Yayasan Generasi Gemilang

PPR Sri Pantai
PPR Beringin
PPR Taman Putra Damai

Yayasan Salam Malaysia

PPR Taman Dahlia
Our impact at a glance
| | | | | | |
| --- | --- | --- | --- | --- | --- |
| Year | 2018 | 2019 | 2020 | 2021 | 2022 |
| PRUKasih Members | 24,301 | 30,787 | 33,724 | 33,814 | 33,768 |
| No. of Communities | 36 | 35 | 35 | 35 | 35 |
| No. of Claims (per year) | 1,512 | 2,397 | 2,020 | 4,784 | 1,471 |
| Claims Reserved | RM5 mil | RM5 mil | RM5 mil | RM5 mil | RM5 mil |
| Penetration Rate | 43% | 49% | 52.12% | 53.70% | 53.75% |
PRUKasih

featured stories
Impactful stories 1 - Community Transformation Initiative
Ros is a single mother with four children. We came to know of her family when we visited her to process her first claim in 2016 after she fell sick. We noticed that she has a different-abled son, Adi, aged 8 then, who is also undocumented. Last year, after we started our Community Center near PPR, we were able to offer creative learning classes to Adi. This May, Ros unfortunately met with a motorcycle accident and fractured her hand, hence she was not able to work to support her family. Ros has exhausted her savings trying to pay her daughter's higher education fees. So, Ros planned with her daughter to make packed foods and sell them to her peers at the Academy. Their little business took off and now they are thinking of their next product! This crisis has prompted them to create other means of earning money, using the PRUKasih claim money not only as relief, but as start-up capital, to generate more sustainable income for the family. The PRUKasih financial education has not only helped Ros, but has been passed on to the next generation, her daughter, who is learning financial planning and business skills. Here we see a rippling impact, as we partner with PRUKasih, to engage and empower families to come out of poverty.
Impactful stories 2 – Yayasan Generasi Gemilang
Our first encounter with Encik A was in February 2017. He first sustained an injury to his right leg when he met a hit-and-run accident in October 2016. Unfortunately, his leg didn't heal properly, and he had to seek repeated treatments at the hospital. In addition, his knee fractured when he fell at the hospital toilet! Since then, his leg injury became worse and developed into a serious case of cellulitis due to venous insufficiency which spread to his arms and other legs. He was fired from his job, and his wife worked as a cleaner to bring home RM1000/month to support their 11-year-old son. Encik A expressed that even though he had sought aid from different sources, PRUKasih is the only one that helped him. He is extremely grateful for the impact PRUKasih has had on his family, especially in helping him to become the Menteri Besar of his community. He repeatedly tells us that if not for PRUKasih, he and his family wouldn't have survived till now.
Impactful stories 3 – Yayasan Salam Malaysia
Mr. Udai Anak Atang, aged 43, is married and has two children. Mr. Udai underwent a surgery in March 2019 and was unable to work. His concerns about monthly expenses as well as his pregnant wife were reported to a PRUKasih volunteer who visited them. PRUKasih was able to help him buy basic items for the period he was not able to work. He returned to work in June 2019 and on June 27, 2019, his wife delivered twin daughters safely. To this day,they are very thankful to PRUKasih. He added, through a PRUKasih free protection plan, it also helps low-income people feel more secure for themselves and their families, especially in the face of unforeseen illness and accidents. As members of the PRUKasih, they are very hopeful that this PRUKasih will continue in the coming year.